There are those among us that simply can't get enough of the
all natural
, and for some of us, we would like to have a more personal trip than say a nude ship with 2000 other nudist and swingers. No doubt they are a blast! Too fun sometimes ! ( you know that trip)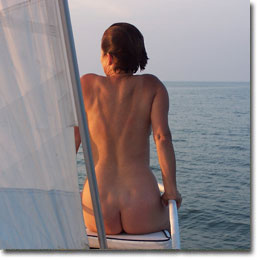 But sometimes if we can just take it down a notch or two and have a select group on a sail boat, enjoying only natures way of being free instead of the gift shops and on-board casinos, I think it would be a nice sunset adventure.
I am going to devote this article to all the small private yet classy sail boat charters like the
Banana Winds Sailing Charters
( great name by the way!)
There are plenty out there and more coming. So check out all your options.
Just remeber, their is little shedule on these charters, as in if you want to stop and scuba dive or snorkle a reef, you can do that, maybe fish or just sit back and read a book, all while you are in the nude. And yes I have heard that folks do scuba dive in the nude, even have their own social club.
I am a scuba diver myself and cant wait till my 100 th dive so that I have a excuse ( no excuse needed) to dive nude, and yep there will be pictures!
But back to whats at topic. Nude charters are becoming very popular and more relaxing with all the privacy that you can stand. Bring your camera for all the dolphins and possible whales that you will see and the beauty of the islands that you will pass and visit if you like, Remember its
YOUR
vacation and you deserve it!
live a lil and be free, stop and relax on a white sand beach, swim with the sting rays or sea turtles, Or hey maybe learn how to sail ( in the nude), at any rate be free and support the nude sailing charter community and do you research on the them to see what best fits your schedule. And for sure visit our friends at
banana wind
s. they have charters all over and will try to accommodate you.
Here is the vessel ( I can see it now, no neighbors, no kids, no work, and co cares!!!!!)
A Nude Vacation .
PRICING
The Vessel
Banana Winds is a 51 Formosa Ketch built in Taiwan and refitted in January, 2002. She offers the romance of a traditional design while having all the modern amenities.
---
Large Main Salon
Large Galley
11 Ft Tender with 15hp outboard
Barbecue
Board games
Cockpit Awning
Large Locker on Deck for Beverage
Pool Noodles
Lots of Books
FM/AM Radio
DVD, CD Player
Tape Player
TV
AC

Telephone
Computer & Printer
Radar
Chart Plotters
G.P.S.
Microwave
200 Gal Water
150 Gal Fuel
SCUBA Tanks
Snorkel, Mask, Fins
SCUBA Instructions
Training Video's
Elect Flush Heads
S.S.B.
E.P.R.I.B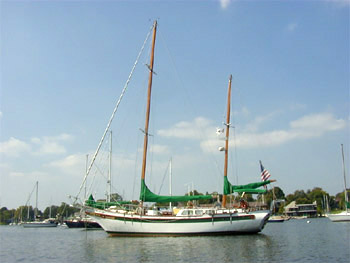 Below Deck